GENUINE KUBOTA PARTS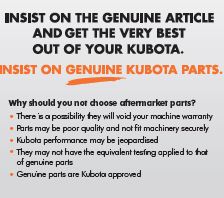 Kubtrac Equipment Sales Spare Parts department can assist you with all your Kubota parts requirements with large holdings of fast moving parts in stock. Parts not in stock are available overnight in most cases. Nerang on the Gold Coast is ideally located for the quick dispatch of parts where ever you may be.
All genuine Kubota parts are designed and manufactured to strict factory standards in order to keep you Kubota machinery operating at peak performance year after year.
For safety, reliability, efficiency and warranty, always choose genuine Kubota spare parts.
Back to product listing