B2301/B2601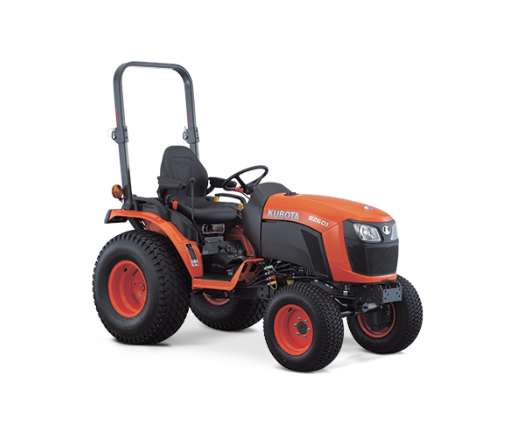 Compact Tractors
Take your performance and productivity to a whole new level with Kubota's new B-01 Series Compact tractors. Whether you're mowing lawns, working on light construction, or landscaping, Kubota's all new B2301/B2601 tractors are the ideal tools for the job. Each model offers a wide range of innovative features to provide more comfort and more efficiency, for the utmost in productivity.
Features
Powered by a rugged Kubota 23 HP (B2301) or 26 HP (B2601) 3-cylinder engine.
Three range hydrostatic transmission as standard.
Hydraulic power steering offers effortless control to reduce operator fatigue.
Rugged and sturdy 4-wheel drive (4WD) provides powerful traction for heavy duty front-loader work and operating other implements.
The B Series all feature a sturdy, hydraulically controlled Category I 3-point hitch that allows you to attach a wide array of rear implements.
The exceptional mid-mount mower is the ideal choice for precision grass cutting. The suspended mower deck gives the operator 1/4″ cutting control, for a clean cut, every time. Plus, this innovative mower is extremely easy to connect – just drive over it, attach, and you're ready to go!
For more information, download the brochure.
Back to product listing