GR2120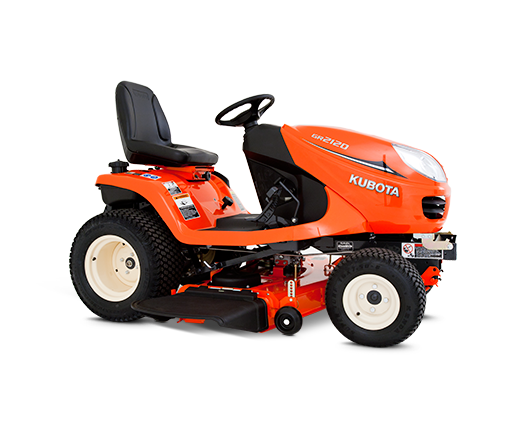 Offering precise control and exceptional traction with 'Glide Steer' technology, GR12120 mowing tractors not only cut in confined areas, they cut down overall mowing time as well.
Performance
Powered by a Kubota 21HP, 3-cylinder diesel engine that easily handles hours of heavy-duty mowing.
'Glide Steer' enables excellent manoeuvrability and exceptional traction while preventing turf damage.
Soft-touch hydrostatic power steering improves operability and reduces fatigue.
Kubota's reputable HST transmission is easily controlled by a single foot pedal and produces a smooth and comfortable ride.
Durability
Unlike a belt-drive transmission used in conventional mowers, Kubota's low-maintenance shaft-drive transmission will provide years of resilient service.
Shaft-drive mower deck and hydraulic PTO clutch deliver reliability with far less maintenance than conventional mowers. No more belts and pulleys to maintain.
Mower deck
Choice of 48" (GR2120-48) or 54″ (GR2120-54) mower deck constructed of durable 10 gauge steel and designed with a 5-inch deep shell for professional and lasting results.
Easy-to-reach cutting height dial allows the operator to easily and quickly adjust the mower cut height from 1″ to 4″, in 1/4″ increments.
Ergonomically-positioned to the left of the operator, the hydraulic lever provides simple and effortless lift/ lower operations of the mower deck.
For even finer clippings, an optional mulching kit is also available. This easy-to-install system makes clippings disappear into grass, creating a healthier lawn.
Incredibly sturdy yet lightweight, the optional large-capacity, 350 litre grass catcher lets you mow longer with fewer stops for emptying.
Comfort
Oversized and generously padded, the GR2120's suspension seat can be adjusted to provide a high level of comfort to a wide range of operators.
The full-flat open platform minimises operator fatigue with plenty of legroom.
Optional arm rests are available.
For more information, contact us or download the brochure.
Back to product listing