GZD15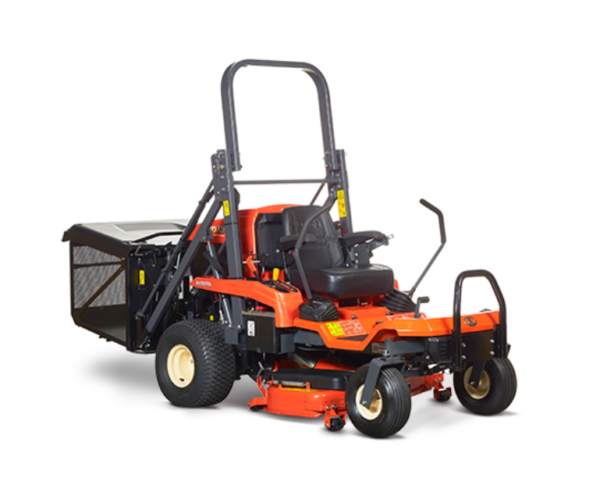 The GZD15 delivers a high level of efficiency, endurance and ergonomics making it a popular choice of both professionals and home owners.
Efficiency
GZD15 zero-turn mower's fuel-efficient, 2-cylinder, 15 HP diesel engine lets you run longer on less fuel while handling even tough jobs
Incorporating Kubota's Glide Cut System, our GZD15 smartly uses its two blades to cut, and then channel directly into the integrated rear grass catcher
High travelling speed of 13.5 km/h, large volume grass collector and the large 20L fuel tank means faster operation with fewer stops so you can get the job done fast
The Zero-Turn System provides the GZD15 with an easy-to-operate, dual-levered steering that has a 360-degree turning radius for incredibly nimble navigation around obstacles
Parallel-link grass collector lift system allows no-spill dumping at varying heights (0.9-1.8m)
The deep profile mower deck (123.4mm) and pedal-operated hydraulic lift allows for easy height adjustment so that all lengths of grass on a variety of terrains can be easily accommodated
The quick clean system and compact design that makes the GZD15 one of the easiest mowers to transport, means you'll be cleaned up and on the way to your next job in no time
Endurance
Features a shaft-drive that is amazingly reliable and quiet
Reliability is increased and maintenance decreased due to Kubota's high-volume, shaft-driven HST transmission. Power is transmitted from the engine to the HST via a shaft and from the HST to the tyres via a gear train.
Kubota's wet disc clutch and brake system increases durability and safety
Ergonomics
Light touch independent left and right steering levers increases maneuverability and reduces fatigue
Pedal-type brakes enables emergency stopping with the lightest of touch while the park brake is activated by completely depressing the brake pedal
Easy access height adjustment dial allows for a range of adjustments
Low centre of gravity increases the GDD15's stability
For more information, contact us or download the brochure.
Back to product listing