L3200/L3800/L4600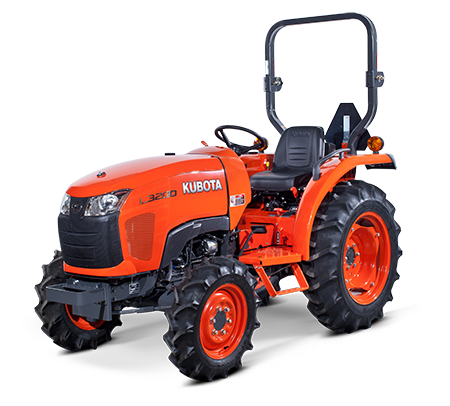 Kubota's powerful L-Series mid-sized tractors offer optimal performance and versatility to meet your needs.
The powerful 4-cycle diesel engine is renown for its durability and reliability. All models are 4WD and come with the option of farm, turf or industrial tyres so you can tackle all sorts of terrain and tasks.
The multiple headlights and smooth, rounded contours improve visibility so you can get the job done more easily. The spacious and ergonomic design provides maximum comfort and reduces operator fatigue.
The Category I 3-point hitch comes as standard so you can attach a variety of implements. In addition, the optional, easy-to-attach/detach front loader and backhoe are performance-matched with impressive power and capacity.
All models have the option of gear-drive or 3-range hydrostatic transmission (HST).
Selected Features
L3200
L3800
L4600
Engine (HP)

31.9
37.4
46.3
No. of Cylinders

3
3
4
Power Steering
integral
integral
hydrostatic
PTO Power (HP)
- HST models
- Gear-driven models
25.2
26.7

30.0
31.5
36.8
38.3
PTO type
- HST (models)
- Gear-driven (models)
live-continuous
transmission driven
live-continuous
live-continuous
live-independent hydraulic
live-independent hydraulic
Gear-driven models only
8F/4R gear shift
8F/4R gear shift
8F/8R, constant mesh
with synchronised shuttle
transmission
For more information about these outstanding tractors, contact us or download the brochure.
Back to product listing