M6040/M7040/M8540/M9540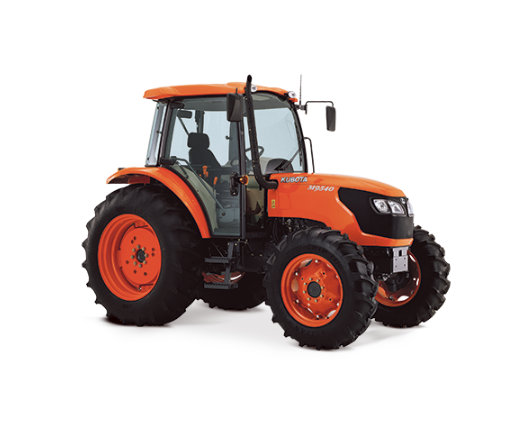 The M40-series is one of Kubota's most durable and affordable models. High performance and affordability blend to bring you a line of tractors that can tackle just about anything you throw at them.
All models are equipped with Kubota's revolutionary center-direct injection system (E-CDIS) engine. This offers a rare combination of power, durability and fuel efficiency, so you'll be able to get the job done quicker and more efficiently while minding your budget. All engines also comply with EPA Tier-II emission standards, so you can be rest assured you're running a cleaner engine.
The hydraulic, independent PTO boasts impressive horsepower which makes working with large implements easier whether you're pulling, lifting, cutting or baling.
With multistage transmission and high travel speeds, the M40-Series can really move you. Limited slip differential and convenient 4WD engagement means a stable drive even in tricky terrains.
All models except the M9540 DHC dual speed model (cab only) come with the option of a Rollover Protective Structure (ROPS) or CAB model. Whether you choose the ROPS or cab option, operator fatigue is reduced as the M-series offers a comfortable, ergonomic and spacious ride no matter the demands of the task.
Selected Features
M6040
M7040
M8540
M9540
M9540 DHC-DS
Engine
V3307-DI
V3307-DI
V3800DI-T
V3800DI-T
V3800DI-TE3
No. of cylinders/
Aspiration
4/Natural
4/Natural
4/Turbocharged
4/Turbocharged
4/Turbocharged
Net Engine Power (HP)

62.0
67.0
84.6
94.5
95.0
PTO Power (HP)

55.0
62.0
75.0
84.0
84.0
Transmission

12F/12R
(with creep)
12F/12R
(with creep)
18F/18R
(with creep)
18F/18R
(with creep)
36F/36R
(with creep)
Rear standard
& front limited slip differential
rear standard only
yes
yes
yes
yes
4WD
(Bevel gear type)
yes
yes
yes
yes
yes
Hydrostatic power steering

yes
yes
yes
yes
yes
Hydraulic 3-point hitch
(lift capacity)

Category I/II
(1500 kg)
Category I/II
(1500 kg)
Category II
(3200 kg)
Category II
(3200 kg)
Category II
(3300 kg)
Front Loader
Optional
Optional
Optional
Optional
Optional
For more information contact us or download the brochure.
Back to product listing