T2090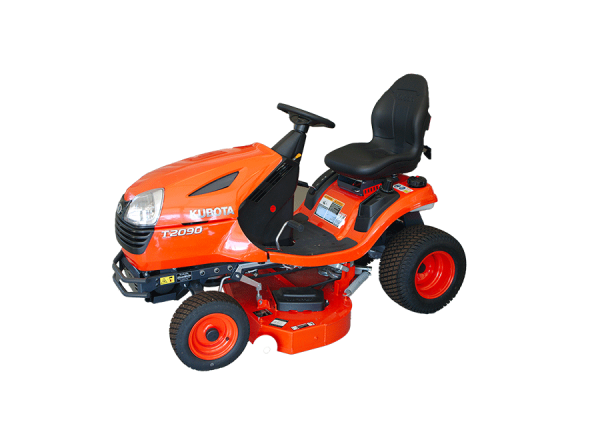 Step up to the Kubota T-Series and get more than everything you want in a premium lawn tractor. Powerful, efficient and comfortable, Kubota's T Series ride-on mower range has been created with the residential customer in mind.
Performance
Equipped with a powerful, 2 cylinder, V-twin 20 HP petrol engine that handles the hills and heavy duty mowing with ease
Short 14" inch turning radius for easy manoeuvrability around posts, trees and other obstacles
Hydrostatic transmission makes operation easy and precise. A single pedal controls speed and direction changes quickly, without shifting or clutching – leaving your hands free for precise steering at all times.
One step parking brake makes parking quick, easy and safe.
Durability
The tubular frame structure and cast-iron front axle enhance the durability, rigidity and strength of the T-series enabling it to handle tough terrain conditions with ease.
The mower deck is fabricated improving its rigidity and strength ensuring years of trouble-free operation and reduced maintenance
Mower Deck
 42" width with 2 blades
Easy-to-reach cutting height dial allows the operator to easily and quickly adjust the mower cut height from 1″ to 4″, in 1/4″ increments.
The mechanical lever provides simple and effortless lift/ lower operations of the mower deck.
For even finer clippings, an optional mulching kit is also available. This easy-to-install system makes clippings disappear into grass, creating a healthier lawn.
The optional 2 bag grass catcher lets you mow longer with fewer stops for emptying.
Comfort
The deluxe, high-back seat provides extra cushioning and support
Full-flat operator's platform offers ample floor space and legroom making getting on and off the mower easy.
For more information, contact us or download the brochure.
Back to product listing